You need (for 4 persons): 
- Fallow deer fillets
- 2 shallots
- 2 cloves garlic
- 2 tbsp. olive oil for frying
- 25 g butter for frying
- 400 g risotto rice
- 3 dl white wine
- 2 teaspoons salt
- 1 liter of vegetable broth
- 50 g freshly grated parmesan
- 1 bunch green asparagus
- 1 tbsp. olive oil for frying
For serving:
- Freshly planed parmesan
- Finely chopped broad-leaved parsley
Here's how you do it:
Trim the fillet from tendons and place it in room temperature for at least 30 minutes.
The fillet is fried in the best company of fresh rosemary, sage and plenty of butter to core temperature 52 degrees. While frying the fillet, boil the risotto. Cover the fillet and let it rest for 15 minutes while the risotto is simmering.
Finely chop the shallots and garlic, and fry them in oil and butter in a pan until ready.
Rinse the rice in a strainer and fry it together with the onions for approx. 1 minute.
Add white wine, stir well and sprinkle with salt. Turn down the heat and add the boiling vegetable broth, a little at a time, so that the rice has time to absorb the moisture while stirring. Continue to dilute with broth until the rice is soft but still has some chewiness. It takes approx. 20 minutes.
Remove the pan from the heat and stir the grated parmesan into the rice. Put the lid on the pan and let the risotto soak for 6 minutes.
Crack the lower, woody end of the asparagus, and cut the asparagus into 3-4 equal pieces.
Heat a pan with a little oil and grate the asparagus pieces golden. Sprinkle them with salt and turn them into the risotto.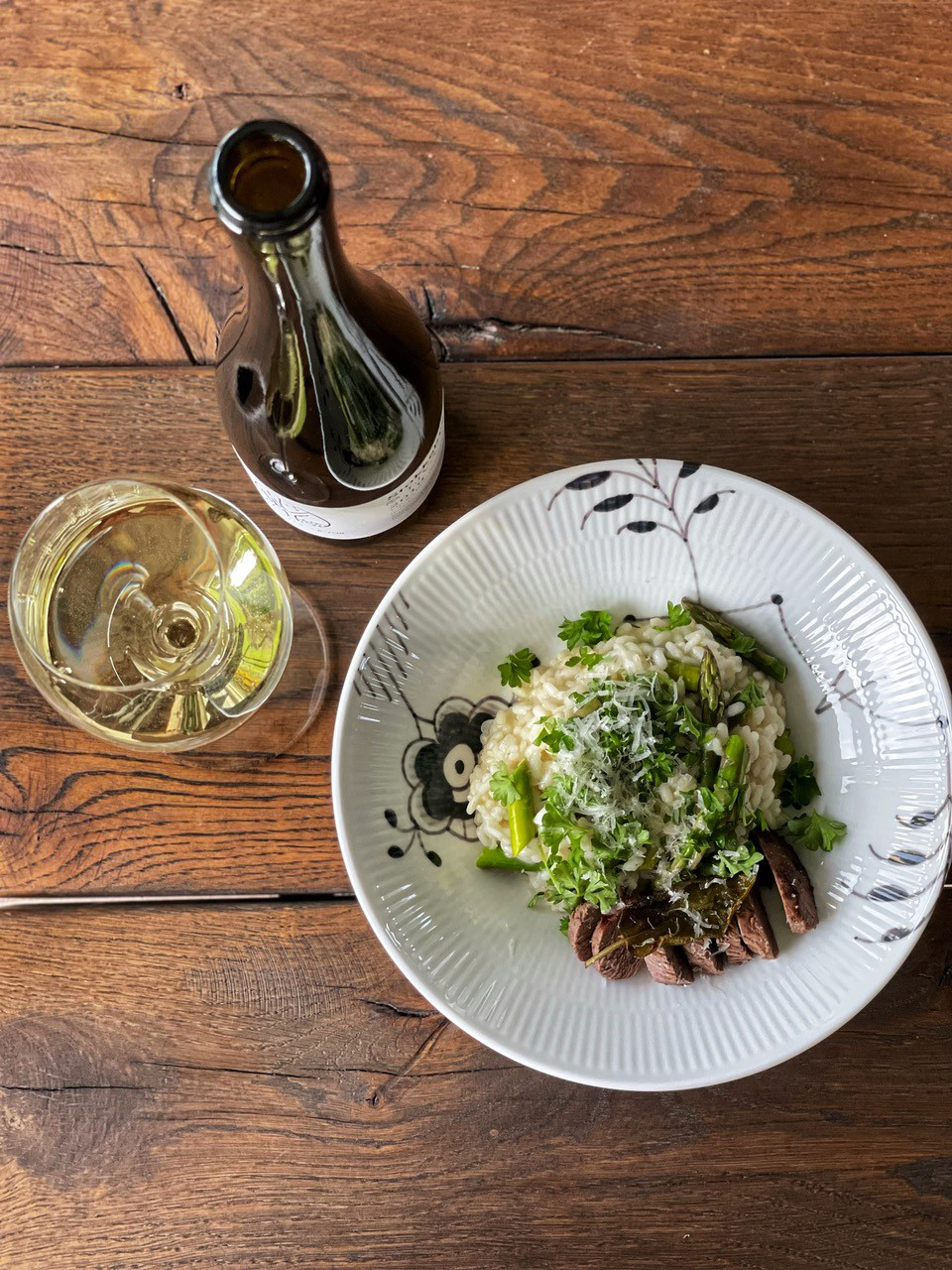 Serving:
Serve the risotto in deep plates, plan a good batch of parmesan over, sprinkle with the rinse, chopped parsley, and serve immediately.
Good luck and have a tasty meal!
Text and photo: René Jantzen