Goulasch is originally from Hungary and can be served both as a soup and a stew. This week's Friday recipe, we will make a goulasch soup on moose which will warm you after a day in the forest, or why not bring it in a lunch thermos when you are out hunting?
You need (for 4 persons): 
- 400 grams round steak of moose
- 4 potatoes
- 2 tablespoons of oil
- 2 yellow onions
- 2 red peppers
- 3 carrots
- 1 garlic
- 0,5 teaspoons cumin
- 3 tablespoons tomato puree
- 1/2 chili
- 1 liter of water
- 3 tablespoons veal fond
- salt
- pepper
Here's how you do it:
1. Trim off tendons and cut the meat into small cubes. Finely chop the onion and cut the pepper into small pieces.
2. Brown the meat in oil, salt and a little pepper. After a while, add onions and peppers.
3. Crush the garlic together with the cumin in a mortar, mix it with the tomato puree and finely chopped chili.
4. Add the garlic and tomato mixture in the pot with the meat.
5. Pour water and veal fond into the pot. Boil the soup on lower heat under a lid for 45 minutes until the meat is tender.
6. Peel and chop the potatoes and carrots. Add the potatoes and carrot pieces to the pan and let it boil under a lid for another 30 minutes. Season with salt and pepper.
7. Place the crème fraîche in a bowl, beat it with an electric whisk until it thickens and becomes fluffy.
8. Top the hot soup with a drizzle of créme fraîche along with a sprig of thyme.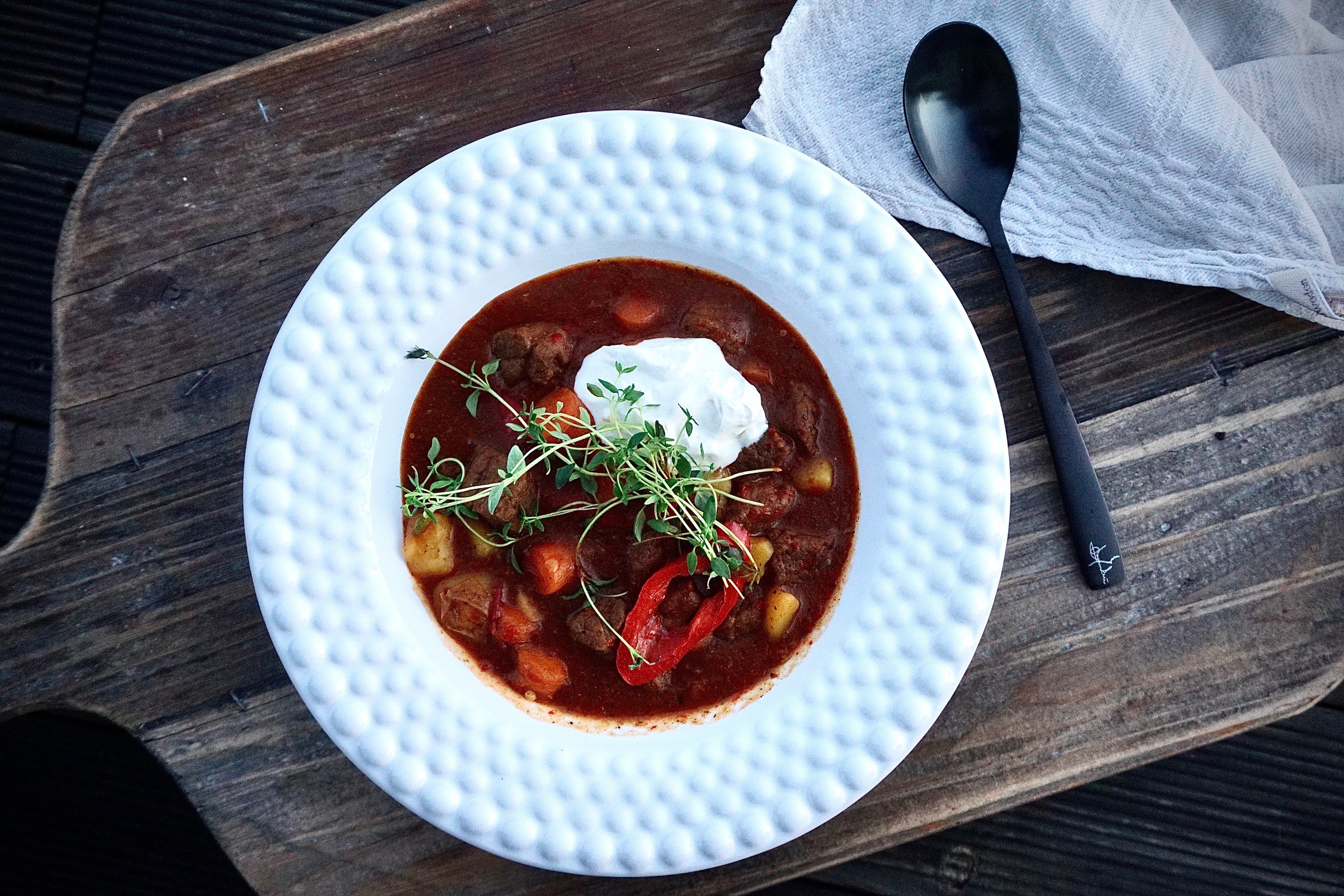 Good luck and have a tasty meal!
Text and photo: Therese Tillman